From bikes to buses, e-scooters to walkways there are so many ways to get around Downtown Columbia.
Micro-mobility (Biking, Walking, Scooting)
Downtown Columbia is home to an extensive multiuse pathway system offering a safe and accessible transportation option around town and connecting to other parts of Howard County. As Downtown Columbia continues to grow, development is guided by Howard County's Complete Streets Policy, ensuring public and private roadways in Howard County shall be safe and convenient for residents of all ages and abilities who travel by foot, bicycle, public transportation or automobile.
We host multiple events each year to show off our walk- and bikeability: BikeAround Downtown, Culinary Walking Tour, Cranksgiving, Discover Downtown 5K and 10K, and more. Visit our Things to Do page to learn more.
We recently conducted a Walk Audit to assess the walkability of Downtown Columbia and note any missing connections that would improve pedestrian comfort and safety in the area. A final report of recommendations is being developed with the goal of improving safety and access for people walking, biking, scooting, and taking transit. It is expected to be completed and presented in January 2023.
Howard County just concluded its six-month shared e-scooter pilot program in Downtown Columbia. The County is evaluating the pilot to determine if changes to scooter management and permitting are necessary in 2023. If you have feedback you'd like taken into consideration, please complete this short survey by December 23, 2022.
Transit
Downtown Columbia is served by the Regional Transportation Agency of Central Maryland (RTA). The RTA provides fixed route service along eight primary routes in Howard County and additional service in Anne Arundel and Prince George's Counties and the City of Laurel. Most routes connect through its main hub at Mall in Columbia. Commuter Bus service to Baltimore and Washington, D.C. is provided by the MTA via a stop at The Mall in Columbia.
Rewards and Resources for Using Alternative Modes
Did you know if you regularly take the bus, ride a bike, or walk to work, you can be rewarded for it? incenTrip* is a mobile app that connects users with multi-modal transportation options and rewards responsible commute trips with points that can be exchanged for cash rewards.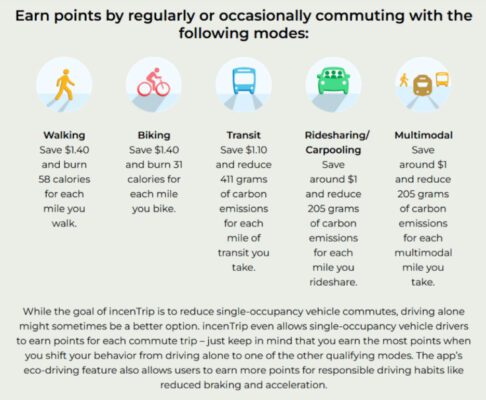 Visit the Apple App Store or Google Play Store to download the incenTrip App and start earning today.
*Maryland is covered by two incenTrip programs: MDOT and Commuter Connections. Program eligibility is determined by your work location. The information on this website is for the MDOT program. Commuters who work in Washington, DC or in Calvert, Charles, Frederick, Montgomery, and Prince George's counties should visit the Commuter Connections website for information about their rewards program.
Using an alternative mode to commute or want to but worry you'll get stuck? Guaranteed Ride Home (GRH) is a free commuter insurance program for those of us who use alternative modes of transportation within the Baltimore and Washington D.C. areas at least two** times a week. The program offers up to SIX free rides home per year to those who take transit, bike, walk, carpool, or vanpool in times when their usual transportation options are limited (e.g. illness, unscheduled overtime)
**Due to many employees not commuting as before, Commuter Connections is currently waiving the two days per week requirement.
Transportation Demand Management Plan (TDMP)
The Downtown Columbia Partnership is leading the update of the Downtown Columbia Transportation Demand Management Plan (TDMP). The purpose of this plan is to identify strategies that reduce the number of trips made, move more people in the same amount of roadway space, and spread the travel demand across more hours of the day to take advantage of space and capacity when it's available. The focus of this plan is on the implementation of these strategies at the level of individual office, apartments and condominiums, institutional, and retail buildings. We anticipate the final draft will be ready for review and stakeholder feedback in early 2023.