Maryland Poet Laureate was featured in Howard County Poetry and Literary Society's inaugural program and later moved to Columbia
The Howard Hughes Corporation announced today the names of three new streets for the Lakefront neighborhood, referred to as Lakefront North, in Downtown Columbia. The names are inspired by the work of the late Lucille Clifton, who was Maryland Poet Laureate from 1979-1985 and a Columbia resident.
"Lucille Clifton is one of Columbia's most celebrated residents, a widely recognized and beloved writer who made her mark on our community as well as the larger world," said Greg Fitchitt, President of the Columbia Region for The Howard Hughes Corporation. "Continuing Columbia's tradition of naming streets after writers and other artists, we believe Lucille Clifton is the perfect choice to represent this area known as a garden for the growing of people and ideas," he added.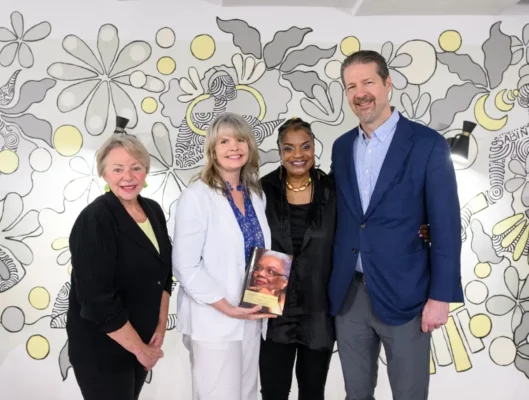 Attending the announcement of street names inspired by Lucille Clifton's poems were (from l.) County Council member Deb Jung, HoCoPoLitSo Co-Chair Tara Hart, Lexi Clifton, and Greg Fitchitt, President of Columbia Region for The Howard Hughes Corporation. (Photo by Stephen Cherry)
Although Columbia has hundreds of streets named in honor of people of achievement, thus far it appears just two people of color, 18th century naturalist and astronomer Benjamin Banneker and legendary musician Stevie Wonder, and one female writer, 19th century American poet Emily Dickinson, have street names inspired by their work.
"My family is deeply honored for this beautiful acknowledgement of my Mom's legacy and awesome body of work," said Lexi Clifton, daughter of Lucille Clifton. "She truly loved Columbia and Howard County and would be thrilled to be recognized in this way in a town that she called home."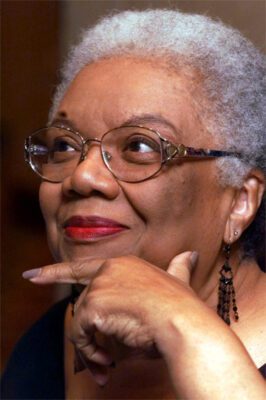 The new streets will be named Rustling Sky Way, Singing Stone Terrace and Distant Star Lane. All are inspired by Clifton's poems, the award-winning author of over 30 books, including the beloved Everett Anderson stories and a memoir. Clifton won the National Book Award and was twice nominated for the Pulitzer Prize in Poetry. Her writing for children won her the Coretta Scott King Award and an Emmy for Free to Be You and Me.
"Through her literary work, Lucille Clifton (pictured) impacted the lives of millions and left a profound mark on the world. To our Howard County residents, Lucille was more than a nationally renowned poet and author — she was our neighbor and friend," said Howard County Executive Calvin Ball. "In recognition of her global impact and local ties, I'm honored to join the family of Lucille Clifton and The Howard Hughes Corporation to name these three streets in the Lakefront District of Downtown Columbia," he added.
Clifton first visited Columbia in 1974 for the Howard County Poetry and Literature Society's (HoCoPoLitSo) inaugural reading, and continued appearing for the society over the years, eventually moving to Columbia in 1991. She died in 2010.
"Lucille not only shared her brilliant poetry in many HoCoPoLitSo programs over the years but as the organization's longtime artistic advisor, she taught us how to find the most authentic, meaningful, and historically significant voices," said Tara Hart, HoCoPoLitSo co-chair and professor and chair of humanities at Howard Community College.
Downtown Columbia's Lakefront neighborhood is currently under redevelopment. The 11.4-acre project is the latest in HHC's efforts to create a walkable community core in fulfillment of the Downtown Columbia Plan, which names HHC the Community Developer. Currently a surface parking lot, the mixed-use community will include 701 residences including 77 affordable units across three apartment buildings. The neighborhood will also provide new retail, below-grade parking and enhanced connectivity to the lakefront as well as two community parks. The project's Site Development Plan was unanimously approved by the Howard County Planning Board on June 1.