Howard County and the Columbia Association co-host the annual July 4th fireworks at the Lakefront in Downtown Columbia with the fireworks display beginning around 9:20 p.m. on July 4. Musical performances for the Fourth are produced by the Columbia Festival of the Arts.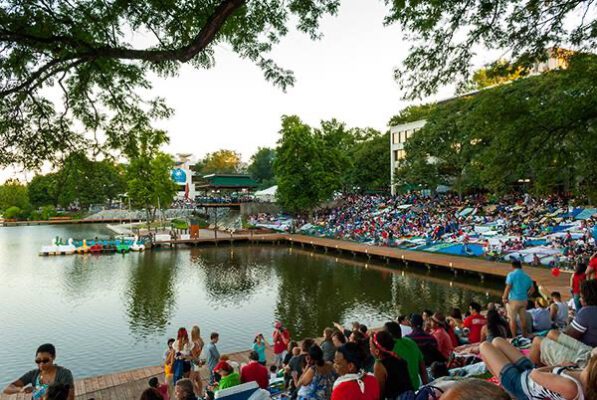 Arrive Early and Feast — Where to Eat
With no parking at the Lakefront itself for the Fourth, it's a great opportunity to arrive early for the day's festivities, and visit one of Downtown Columbia's destination dining hot spots — many will be open regular hours on July 4th. Call for reservations.
Merriweather District
Parking at the Merriweather One and Two Garage on Grantchester Way puts you closed to both Cured and The Food Market. If you are parking the Symphony Woods Road Garage, you are near Banditos, Busyboys & Poets, The Charmery, Clove & Cardamom, Dok Khao, Peter Chang and Tostique, all running regular weekday business hours, except for Cured, which is serving till 8 p.m.
At The Mall
Seasas 52, Walrus Oyster & Ale House, Chicken+Whiskey, Uncle Julio's, Maggiano's, and all the rest of the dining spots along The Plaza's restaurant row, as well as those across the way on the retail level of the Metropolitan, and TenM and Mflats apartment buildings along The Mall ring road. The Food Market on Corporate Row is also easily accessible when parking at The Mall, as is Union Jacks, with indoor and outdoor seating options just across from the lakefront.
Lakefront
The newly opened Offshore and Encore and the ever popular Sushi Sono provide lakeside dining, as does Lak, now open in the Lakehouse Hotel. On Little Patuxent Parkway in the Patuxent Square building is GrillMarx. Offshore is accepting reservations for both indoor and patio dining as well as accepting pre-orders for sandwiches that can be carried off to your favorite fireworks viewing spot. GrillMarx,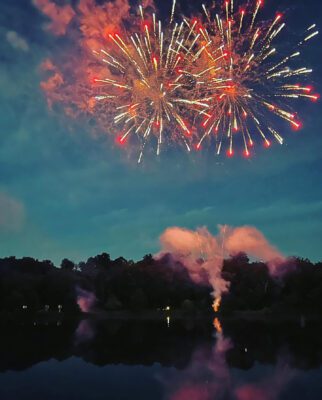 Schedule of Events
8:00 a.m. Race4TheWorld 5k at Merriweather
11:30 a.m. Concert at the Chrysalis
3:00 p.m. Blankets may be placed
5pm – 9 p.m. Food trucks at the Lakefront

Tasty Treats – ice cream & hot dogs
Tasty Treats – chicken fingers and French fries
Pacha Mama
Blowfish Poke
Kona Ice
Malik's Ice Cream
Althea's Almost Famous
Hardy's BBQ

6 p.m. – 7:15 p.m. Holly Montgomery performance
7:30 p.m. – 9 p.m. Sugaray Rayford performance
9 p.m. – Opening Remarks and National Anthem Performance
9:20 p.m. – Approximate start of fireworks
Free public parking for this event will be located at:
The Mall in Columbia
One and Two Merriweather Garage – 10970 Grantchester Way (Free on July 4)
Symphony Woods garage, 6275 Mango Tree Road (Free on July 4)
Sterrett Place North
There is no parking at the Lakefront. The Whole Foods parking lots will be closed at 6pm and will reopen at approximately 11pm. Parking on the Wincopin top deck or garage below is reserved for event staff and will require a permit for access.
Important Road Closures
6:30pm – 11pm Little Patuxent Parkway closed between Symphony Woods Road and Governor Warfield Parkway
8pm – 11pm Little Patuxent Parkway closed between Broken Land Parkway and Symphony Woods Road